My Blog
Posts for tag: cosmetic dentistry
By Comprehensive Dental Care
March 26, 2019
Are you dealing with tooth loss in West Hartford, CT? Find out how dental implants can help.
We are forever grateful for modern dental technology, which allows our dentists here in West Hartford, CT, to be able to replace missing teeth with an artificial tooth that doesn't just look and act like a real tooth but can also last the rest of your life with the proper care. This popular tooth replacement is known as a dental implant and it offers some pretty amazing benefits. Here's how dental implants work to replace one or more teeth.
How a Dental Implant Works
It's important to know the inner workings of an implant to understand how they mimic the look and function of a real tooth. While the only visible part of a tooth is the crown, it's the roots of the teeth that are integral in keeping the teeth and jawbone healthy. You may not realize it but the roots actually stimulate the jawbone to continue producing new bone cells and to keep the bone healthy and strong.
If you lose one or more teeth, the jawbone no longer gets ample stimulation from the tooth roots and, as a result, begins to shrink and deteriorate. You can probably imagine the impact this has not only to your oral health but also your appearance. Luckily, an implant is the only tooth replacement that is designed to replace your missing roots.
In order to do this, our West Hartford, CT, implant dentists will need to surgically place this very small, tapered metal post inside the jawbone. This requires minor surgery to place the implant. Once the implant is placed something pretty amazing happens: the jawbone begins to heal around and fuse with the titanium implant to become one solid unit (this can take up to six months for the two to fully integrate).
From there, we will need to place the second part of the implant known as an abutment. The abutment will be attached to the top of the implant and it's designed to link the implant (that sits under the gums) with the false tooth (the part of the implant that we will actually see when you smile).
The last piece of the implant puzzle is to cement the permanent dental crown over top of the abutment to complete the restoration. Of course, if you need to replace several or even all of your teeth then multiple implants can be placed throughout the jawbone to support partial or complete dentures.
Are you interested in what dental implants can offer your smile after tooth loss? If so, then call the experts at Comprehensive Dental Care in West Hartford, CT for an initial consultation and find out if you are right for implants.
By Comprehensive Dental Care
July 08, 2018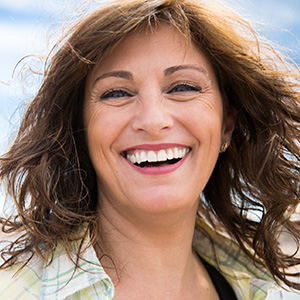 In summer, there is no shortage of occasions to show off your smile. Whether attending a wedding, graduation celebration, family reunion or neighborhood barbecue, you'll want to look your best. But if your smile doesn't shine as brightly as you'd like, a trip to the dental office may just be the confidence-booster you're looking for. Here are some popular techniques to enhance your smile:
Teeth cleaning. A professional cleaning can make your mouth feel fresh and add sparkle to your smile. The dental hygienist uses special tools to get rid of plaque and tartar that you cannot remove during your oral hygiene routine at home. In addition, hygienists use a tooth-polishing tool that removes surface stains.
Professional whitening. Professional teeth whitening can achieve excellent results in one short office visit. But if you have several weeks before the big event on your calendar, you can also get winning results at home using custom-made whitening trays from the dental office. Either way, your smile can sparkle at summer celebrations.
Cosmetic bonding. If your teeth have small chips or cracks, cosmetic bonding may be a good option for you. In bonding, tooth-colored material is shaped to the tooth and hardened with a curing light. The procedure—generally done in one office visit without anesthesia—is relatively inexpensive, and the result is very natural-looking.
Porcelain veneers. If you are unhappy with the color, shape, size or spacing of your teeth, long-lasting dental veneers can give your smile a whole new look. Veneers are wafer-thin porcelain shells that are bonded to the tooth's surface. Because they may be crafted in a dental lab, they may require two to three visits to the dental office over a few-week period.
With so many options, it's easy to put your best smile forward at all your summer gatherings. We can help. If you have any questions about brightening your smile, please contact our office or schedule a consultation. To learn more, read the Dear Doctor magazine articles "Teeth Whitening" and "Porcelain Veneers."
By Comprehensive Dental Care
May 10, 2017
You've probably visited your dentist for only a handful of reasons: the standard cleaning and checkup twice a
year, and the occasional cavity filling. But at Comprehensive Dental Care in West Hartford, CT, our dentists provide a wide variety of dental services, all aimed at maintaining good dental health and helping their patients look and feel their best! Here's just a few of the other treatments and procedures we provide.
Pediatric dentistry
Even though children will eventually lose their primary teeth (often called "baby teeth"), starting a good dental hygiene routine early on is very important. Your West Hartford dentist recommends scheduling a child's first dental appointment at age 3. This allows your dentist to monitor the growth of their teeth and make necessary recommendations to head off any potential problems. Our dentists provide our youngest patients with cavity-fighting treatments like fluoride application and sealants, which provide a protective barrier between plaque and the teeth.
Restorative dentistry
A missing or damaged tooth can be a blow to the self-esteem; it can also cause painful problems to develop. Fortunately, your dentists at Comprehensive Dental Care know how to repair and replace missing and damaged teeth with long-lasting and effective treatments. Dentures, bonding, root canal therapy and dental implants are all part of the restorative services we provide.
Cosmetic dentistry
If you have a healthy smile but still have some visible flaws in your teeth, a cosmetic treatment from one of our West Hartford dentists might be exactly what you need. Whitening can brighten your teeth up to eight shades, contouring can help to reshape edges and crown lengthening can help restructure excessive gum tissue. A consultation with one of our skilled dentists can help determine what you need to achieve your best smile.
To schedule an appointment for any of these procedures, contact Comprehensive Dental Care in West Hartford, CT, to talk to one of our helpful office staff members. We'd be glad to help you!