My Blog
Posts for tag: tooth decay
By Comprehensive Dental Care
September 01, 2019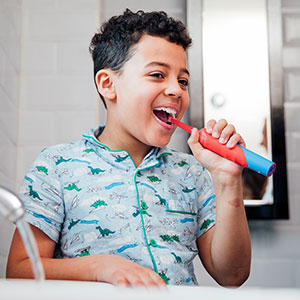 True or false: there's no cause for concern about tooth decay until your child's permanent teeth erupt.
False—decayed primary teeth can lead to potentially serious consequences later in life.
Although "baby" teeth last only a few years, they're essential to future dental health because they act as placeholders and guides for the incoming permanent teeth. If they're lost prematurely due to decay, other teeth may drift into the empty space intended for the emerging permanent tooth. Because of this, inadequate space will crowd the out of proper alignment.
And because they have thinner enamel than permanent teeth, primary teeth are more susceptible to decay. Once decay sets in, it can spread rapidly in a matter of months.
Fortunately, we may be able to prevent this from happening to your child's primary teeth with a few simple guidelines. It all begins with understanding the underlying causes of tooth decay.
Tooth decay begins with bacteria: As a result of their digestion, these microorganisms secrete acid that at high levels can erode tooth enamel. The higher the population of bacteria in the mouth, the higher the acidity and potential threat to the teeth.
The first objective then in preventing decay is to remove dental plaque, the thin film of bacteria and food particles on tooth surfaces, through daily brushing and flossing. And because bacteria feed on sugar as a primary food source, you should reduce your child's sugar consumption by restricting it to only meal times and not sending your child to bed with a bottle filled with a sugary liquid (including formula or breast milk).
To help boost your child's protection, we can also apply sealants and fluoride to teeth to help protect and strengthen their enamel from acid attack. Because we'll also monitor for signs of decay, it's important to begin regular dental visits beginning around age one. If we do detect decay, we can then treat it and make every effort to preserve your child's primary teeth until they've completed their normal life cycle.
By taking these steps, we can help make sure your child's early teeth go the distance. Their current and future dental health will certainly benefit.
If you would like more information on prevention and treatment of tooth decay, please contact us or schedule an appointment for a consultation. You can also learn more about this topic by reading the Dear Doctor magazine article "Do Babies Get Tooth Decay?"
By Comprehensive Dental Care
October 16, 2018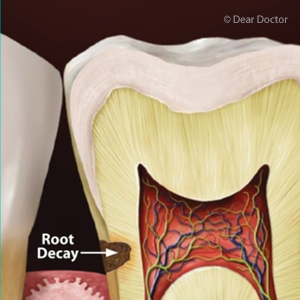 Tooth decay is a highly destructive dental disease, responsible along with periodontal (gum) disease for most adult tooth loss. And we become even more susceptible to it as we get older.
One form of decay that's especially prominent among senior adults is a root cavity. Similar to a cavity in the crown (visible tooth), this form instead occurs at or below the gum line in the roots. They happen mainly because the roots have become exposed due to gum recession, a common consequence of periodontal (gum) disease and/or brushing too hard.
Exposed roots are extremely vulnerable to disease because they don't have the benefit of protective enamel like the tooth crown, covered instead with a thin and less protective mineral-like material called cementum. Normally, that's not a problem because the gums that would normally cover them offer the bulk of the protection. But with the gums receded, the roots must depend on the less-effective cementum for protection against disease.
Although we treat root cavities in a similar way to those in the crown by removing decayed structure and then filling them, there's often an added difficulty in accessing them below the gum line. Because of its location we may need to surgically enter through the gums to reach the cavity. This can increase the effort and expense to treat them.
It's best then to prevent them if at all possible. This means practicing daily brushing and flossing to remove bacterial plaque, the thin, built-up biofilm on teeth most responsible for both tooth decay and gum disease. You should also visit your dentist at least twice a year for professional cleanings and advanced prevention methods like topical fluoride to strengthen any at-risk teeth.
You should also seek immediate treatment at the first sign of gum disease to help prevent gum recession. Even if it has occurred, treating the overall disease could help renew gum attachment. We may also need to support tissue regeneration with grafting surgery.
Root cavities are a serious matter that could lead to tooth loss. But by practicing prevention and getting prompt treatment for any dental disease, you can stop them from destroying your smile.
If you would like more information on diagnosing and treating root cavities, please contact us or schedule an appointment for a consultation. You can also learn more about this topic by reading the Dear Doctor magazine article "Root Cavities: Tooth Decay near the Gum Line Affects Many Older Adults."